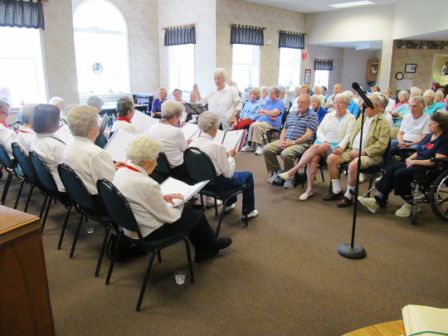 It can be a hard decision for seniors to choose between living at home and receiving care there, or moving to an assisted living facility. It's important to examine the benefits of either. Let's explore the benefits of moving to an assisted living facility.
Peace of Mind
First and foremost, living in an assisted living facility allows seniors to live their lives without worrying about the daily tasks that may have become tedious or difficult. Cooking, cleaning and taking care of the home is no longer necessary in an assisted living facility, leaving seniors without the worry of having to complete those chores or get help from family to do so.
Assisted Living Gives Choices
Living in an assisted living facility offers residents many options. Because the care one needs is always close by, there are no limitations on what seniors can or cannot do from going to exercise classes to many other activities that might be enjoyed.
Relieving Stress On Family or Caretakers
While family and friends want to do all that they can to help when the seniors in their lives begin to struggle with health issues or daily responsibilities, it can be easier on everyone if living in an assisted living environment is a decision that is made. Family and friends are then able to visit in a leisurely way and seniors no longer have the worry of being a burden or asking too much.
Greater Opportunities for Recreation and Fun in Assisted Living
Assisted living facilities often offer myriad amenities including nail services, salons and even massages. Additionally, gyms and other facilities can also be found at assisted living facilities in order to help residents to stay fit, improve health, or just enjoy themselves with friends.
Activities
If residents choose to participate, there are tons of activities that are available for seniors to participate in. From crafts to bird watching or bingo, there are tons of planned activities to engage residents and help sharpen their minds.
Travel
Many assisted living facilities plan local travel for their residents. Sporting events or local historical attractions are often planned destinations for residents who want to leave the facility to enjoy the local area.
Better Opportunities to Improve Health Through Physical Fitness
Few seniors have many pieces of exercise equipment at home. In an assisted living community, there are many options from which to choose in order to be healthy through physical fitness. Classes can be available for yoga or swimming and gyms are available for those who want to improve strength or improve cardiovascular health.
Greater Connections With Others
Remaining at home can be isolating for a senior. Instead, in an assisted living community, seniors have the opportunity to make friends and spend time with them daily either at meals or at the many activities that are offered.
Safety
Seniors can be prone to accidents that can be serious and take a long time to recover from. At assisted living facilities, seniors have around the clock care available that can help with any potential injuries, and prevention of them as well.
Affordability
Often, home care requires a lot of investment in terms of retrofitting the home, paying for home care, and purchasing resources that will help a senior to be safe and have access to prompt help if needed. Assisted living communities, however, have become much more affordable and can be a far better financial choice than remaining at home. This entry was posted in Assisted Living, Care Transition, Home Care, In Home Care and tagged assisted living, care transition, Home Care, senior care.
By Christy Rakoczy