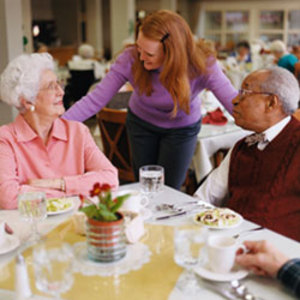 As people inch closer to their retirement age, many are worried about the prospect of endless hours turning into drab evenings where loneliness and lack of activities combine to crush the spirit and weaken the body. But, if you plan well ahead and choose to be a part of a good active adult retirement community, you can convert your retirement years to fun, frolic and socialization – things you could barely do when you were young and busy!
What must you look for when choosing an active adult retirement community?
Most seniors desire a healthy, active lifestyle. This is perhaps the first item on their wish list. Therefore, the active adult retirement community must have a well equipped fitness center, with pieces of equipment that are most suitable for seniors.
Another matter of great importance is a safe living space. As you age, you may find it increasingly difficult to maneuver steps and curves. You want plenty of lighting and a safe and comfortable home is your primary concern as you age. Wide open spaces, efficient lighting and heating cannot be compromised on.
Becoming inactive is another major concern of retirees. An active community must provide you with sufficient places to do all the things you like, including sports and games, parties and meetings. Additionally, an active adult retirement community also encourages the development of a healthy social environment where outings and group activities are a part of the lifestyle. By getting involved in such activities, seniors can fill their days with fun and activities. This keeps boredom and ill-health at bay. It also keeps the mind sharp and active. The heart is eager to start the day and by the evening, the body is pleasantly tired and ready for bed. A well managed retirement community will have a wide variety of activities to keep the residents busy.
An important aspect of choosing an active adult retirement community is the location. Most seniors want to stay in a community that is near their relatives and friends. You might also want to be at a place that is accessible to facilities like hospitals, shopping centers and so on. Map the location you want to stay in and search for reputed retirement communities in that location.
Finally, choose a retirement community that has a payment plan that suits you the most. Different communities have different schemes. Some communities charge yearly rent while others require you to buy the unit and pay membership fee for other utilities. Your financial situation dictates the decisions you make in this regard.
Choosing an adult retirement community to live in must not be done in a hurry. Ideally, you must invest a few months into your research and consider various options before settling for one. After all, you're thinking about spending the rest of your life there.
Article Source: http://EzineArticles.com/5811942
For more information about Parkwood Heights, please visit our website at www.parkwoodheights.com or Contact Us here.