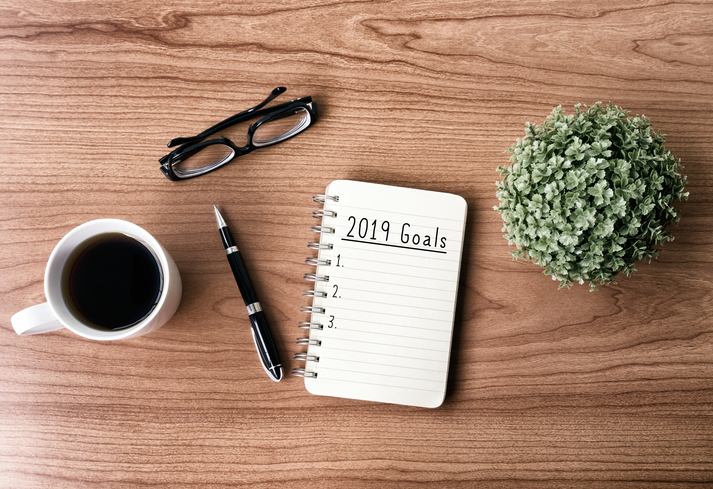 Once the decorations are packed up and stored away, and the family visits come to a close, it's normal to fall into a post-holiday slump. Give yourself a fresh goal to work toward by setting a New Year's resolution.
If you have had years of failed attempts to achieve the goals you set in January, make this year different. Take a look at some common New Year's resolutions and tips to stick to them all the way through the end of the year.
Most Popular New Year's Resolutions for Seniors
Here are some categories in which older adults often set goals. Remember, to successfully keep your New Year's resolution, you should make it specific, measurable and achievable. Here are some ideas to inspire you.
Eat healthier
As you get older, your body needs high-quality food to stay healthy. To get the proper nutrients, avoid empty calories in sugary drinks and desserts. Instead, resolve to eat more fruits and vegetables, fiber-rich whole grains, lean chicken and turkey, and low-fat dairy.
It's easy to stick to your healthy eating goals at Parkwood Heights! We offer nutritious, restaurant-style dining with heart-healthy options for every palate. Our Fireside Dining Room is open for breakfast, lunch and dinner, so come join us!
Be more active
It's easy to fall into a sedentary lifestyle as you age, but staying active is important for your heart, joints and muscles. Certain exercises can also improve your balance, strength and flexibility to reduce the chance of painful falls.
Looking for ways to stay active in 2019? Parkwood Heights offers just what you need. Our facility is located in scenic Macedon, with walking paths, creek side park, and gardens on site. When the weather isn't so good, there's still plenty of ways to stay active indoors with our exercise classes and fitness center,
Train your brain
To ward off dementia and other age-related mental decline, you must train your brain the way you exercise your body. There are plenty of activities you can incorporate into your day to engage your mind, such as doing a crossword puzzle, playing solitaire, reading a book or memorizing the words to a new song.
You can do these types of mental exercises no matter where you live, but at Parkwood Heights, you get even more chances to stimulate your brain. We offer educational classes, have an onsite library and offer mentally engaging activities for all our residents.
Be more social
When your family isn't around, it's easy to isolate yourself in your room and shut off the outside world. However, being more social in 2019 is a great New Year's resolution if you want to feel more joy and connection with others.
Parkwood Heights offers ongoing opportunities for our residents to enjoy each other's company. Our events calendar is filled with 125+ activities, outings and events per month for seniors with a wide range of interests. You can also help yourself to a game of billiards, bocce ball or horseshoes whenever you fancy. Parties, bingo, arts and crafts, dancing, and endless other activities keep our residents socially engaged.
Visit the doctor and dentist more frequently
Annual wellness checkups are your chance to undergo preventative screenings that test your hearing and vision. Physical exams and lab tests can also catch conditions such as osteoporosis, high blood pressure, arthritis and cancer as early as possible so treatment can begin. You should also resolve to get a flu shot and other immunizations as recommended this year.
Taking preventative healthcare seriously can help you enjoy your golden years to the fullest! At Parkwood Heights, we have a geriatric physician on site. Your case manager will coordinate your appointments and make sure you're receiving the level of ongoing care you need.
Get more sleep
Older adults should get seven to eight hours of sleep each night. Making this a priority in the new year can promote good overall health.
If you have trouble sleeping, resolve to make some changes to your routine. First, go to bed at the same time every night. Then, make your bedroom a haven for sleep by keeping it cool and dark at bedtime. Remember to avoid caffeine after lunchtime so you don't feel wired in the evening.
Drink less alcohol
Excessive alcohol consumption should be avoided at any age. Not only can it lead to a range of physical health problems, but it can also increase depression, cause sleeping difficulties and make you feel ill. Alcohol is even more dangerous for older adults because it can interact with medications or increase your risk of falling.
To help you cut back, avoid situations where alcohol is served. Invite guests to dine in with you instead of at a restaurant where you could be tempted to drink. Then, make it a rule to never drink alone. To make the transition easier, replace your routine drink with a healthy nonalcoholic alternative, such as a smoothie or green tea.
Quit smoking
If you're a smoker, you undoubtedly know this habit is dangerous to your health. New Year's resolutions are about breaking bad habits and replacing them with better ones. Even if you have been smoking for most of your adult life, it's never too late to quit! If you do, you'll breathe easier, increase your energy levels, sleep more soundly and reduce numerous related health issues.
Perhaps you have tried to quit in the past without success. Don't give up! The physicians and wellness staff at Parkwood Heights can help you set an achievable goal and stick to it.
Enjoy life to the fullest
This resolution isn't about making sweeping changes to your lifestyle – instead, it focuses on actively enjoying life as it currently is, not pining for the past or fretting about the future. Create a daily ritual to help you improve your attitude. When you wake up, ask yourself, "What am I most looking forward to today?" Then, before you go to sleep, reflect on your favorite part of the day.
There are plenty of ways to enjoy life to the fullest at Parkwood Heights! We always keep things exciting with parties, classes, activities and more. You can also pamper yourself at our onsite hair salon, barbershop and therapeutic spa. When you live at Parkwood Heights, there's something to look forward to every day.
Other Tips to Stick to Your New Year's Resolutions
Is your New Year's resolution not included in the list above? Never fear – the following tips are useful for helping you stick to any goal you set.
Make small changes throughout the year
The reason why New Year's resolutions fail so often is because people tend to set singular, overwhelming goals each January. By February or March, they forget about their goal or lose motivation to achieve it. A better option is to set small, attainable goals throughout the year. Having more realistic expectations increases your chance of success.
Change one behavior at a time
Unhealthy habits develop slowly over the years, so you should break them down gradually. If your goal is to eat healthier, start by replacing traditional desserts with something else you enjoy, such as fruit or yogurt. If you want to be more active, begin by introducing one activity a few days a week. The trick is to reach your overall goal step-by-step rather than diving in headfirst.
Share and work on your resolution with others
To increase the odds of achieving your New Year's resolution, don't keep it a secret. Tell your family, friends, doctor and other relevant people about your self-improvement plans. See if any loved ones want to set the same goal for themselves so you can work on achieving them together. Then, consider joining a support group or attending counseling sessions if you're trying to quit a habit like smoking or drinking alcohol.
Don't give up completely if you take one step backward
Old habits die hard, so don't be surprised if you have some missteps along the way. Just promise yourself that you won't call it quits merely because you miss going on a walk one afternoon or you aren't feeling up for a social event one evening. Treat every day as a fresh start, a new chance to take one step closer to achieving your goals!
Parkwood Heights offers many resources to help you set and stick to your New Year's resolutions in 2019. To learn more about our refreshing choices for retirement living in Macedon, New York, please contact us today at (315) 986-9100.