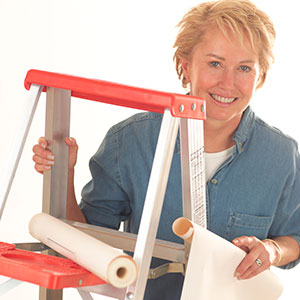 It's ok to express yourself in your new home as you retire and down-size. Seniors or grandparents, couple or singles can make their home sing with style.
You've taken the step – buying a smaller home. Rightsizing it's called, and everyone your age is doing it. How do you make the new place yours and settle in? Should your decor be cozy or dramatic? Do you fill smaller space with smaller furniture? How do you know any your stuff will fit?
Expert decorator Susan Kroeger of Susan Kroeger, Ltd in Winnetka, IL advises you to be open-minded and embrace your new life. "You have finished raising your children. You're retiring from a long, successful career. You've earned low maintenance, comfortable and personal time and space for yourself," Susan says.
"Fix your thoughts on moving forward to a better home," she points out. "Understand you aren't giving up anything – you're gaining a lot."
How do you want life now? Simpler? Full of fun, creativity, socializing? Decorating experts say plan your home to be exactly what suits you and go for it. Get rid of things you never liked, things you haven't used for six months or more. Go out and purchase a few important pieces in grand scale to give a generous, luxurious and comfortable feeling.
Susan believes the old idea of filling small spaces with small pieces is just that; old. She explains, "Large pieces are inviting. A small space filled with little things looks cluttered and confused. The trick is – fewer pieces, dramatic scale."
A huge bed heaped with fluffy pillows and buried in a deep, soft comforter, sends a message of luxury, pleasure. Do the same with carefully selected larger furniture in a smaller home. Try a down filled sofa in a neutral color or an overstuffed chair for a quiet corner.
And to showcase those sumptuous pieces, decorators lavish color on walls and in floor coverings. Pretty and restful shades like saturated greens or greys, earthy cream or mushroom for things more costly and difficult to change. Then splurge on dramatic deep colors or patterns for accents and accessories. Wines, blues, reds or even orange put life in today's pallet. If you follow that advise, you can make changes when you want to, without overwhelming expense.
Create unity in a smaller home. Blend similar colors through your home, varying shade and intensity. Consider that many rooms in popular open floor plans are visible from the public areas. A united color theme creates visually larger spaces.
Don't be afraid to use patterns and prints, but if you put a patterned wall covering in the bathroom, for example, you might repeat it in a living room toss pillow or a bedroom drapery.
And draperies are more popular than ever – adding warmth and character. Vertical blinds or minis are fine for a sleek look, but for cozy warmth, use quality fabrics in important colors.
Whether you elect to do your own decorating or you're more comfortable hiring a professional, here are five helpful tips:
Buy at least one dramatic item that expresses your personality. If budget allows, buy all new upholstered living room pieces, emphasizing your desire to move ahead and look to the future. Try buying four good pieces. A pair of chairs, an accent chair and a sofa. Buy them together; buying one here, one there may give a less cohesive look.

Use neutral colors as a background or canvas for your complete look.

Use large scale pieces. Large scale, less clutter, a sumptuous atmosphere filled with natural fabrics is so inviting.

Treat yourself to window treatments. Experts say buy the best to transform each window into a work of art, keeping unity in mind. A window can be a focal point, a source of light and a slice of nature brought indoors.

Put a surprise color in the powder room, a very public room. Let loose and have fun. Wrap walls in incredible colors like red or black. Surprise yourself.
Have a good time as your downsizing process unfolds. Think forward. What an adventure this is going to be; settling into your very own hard-earned space.
Source: Senior Decorating 101: null | Suite101.com