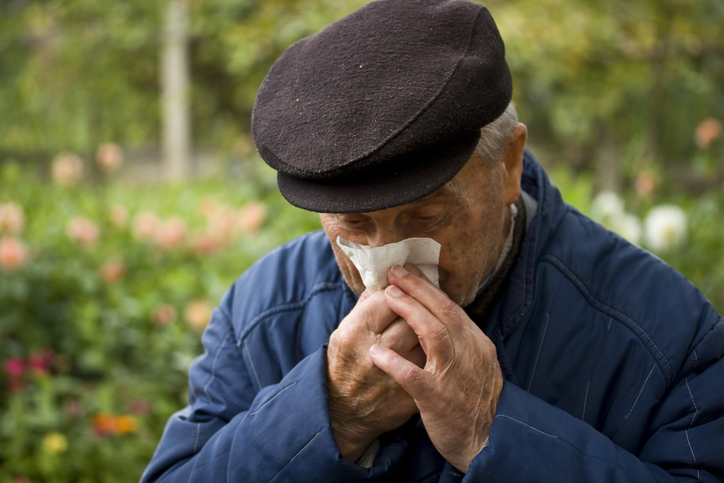 Spring is a beautiful time of year, bursting with new life and fresh promise. It's a great time to shake off the winter doldrums and get out in the fresh spring air, enjoying the weather and spending time with friends and family. If you suffer from spring allergies, though, this time of year can be absolutely miserable. For seniors, especially those with chronic diseases, allergy symptoms can be hazardous, but so can some of their remedies. Do you know how best to safely fight your seasonal allergies?
First, did you know that you can develop seasonal allergies late in life, even if you've never had them before? If the springtime has you sneezing, with a runny nose and itchy eyes, you may very well be experiencing an allergic reaction. It's smart to talk to your doctor and ask for advice on the best course of action.
It may surprise you to know that antihistamines can be harmful. While over-the-counter allergy pills are widely used, senior citizens should only use them under a physician's advice. Side effects of over-the-counter antihistamines can include drowsiness, confusion, dizziness, and dry mouth. What's more, when they interact with medicines commonly prescribed to older adults, allergy medications can cause problems like mood swings, elevated blood pressure, urinary retention, changes in behavior, and insomnia. Your doctor may want to prescribe a better option for you, like a nasal steroid or topical medication.
Shutting allergens out can help you steer clear of allergies. Keep your doors and windows closed, including your car windows, so that pollen can't get into your house. Using an air purifier can also be helpful in keeping the indoor air quality from being contaminated by pollen.
Remember that outdoor allergens can follow you inside. The impulse to get outside in spring and soak in some sun is a good one because the Vitamin D you'll absorb is healthful. Unfortunately, your clothing, hair, and shoes will collect pollen, and when you come inside, you'll carry it with you. Remove your shoes as soon as you enter your home, wash your hands, change your clothes, and consider a shower to keep from spreading pollen around your home.
If allergies bother you in spring, plan your activities around the pollen count. On a low pollen day, it's probably fine to go outside or work in your garden, though it's wise to wear sunglasses to protect your eyes from irritation caused by pollen. When the pollen count is high, however, plan to stay indoors.
Watch what you eat to reduce allergy symptoms. Foods that fight inflammation can help you fight allergies, so fill your diet with apples, walnuts, ginger, leafy greens, berries, fatty fish and other foods that contain nutrients like Vitamin C and antioxidants. These foods don't just help fight allergies, they also help you stay healthy.
For residents of Parkwood Heights, it's easy to stay healthy, active, and socially connected- no matter what the season! We've got the perfect location for a relaxed lifestyle, with 122 acres of beautiful grounds and spacious, well-appointed floor plans where seniors can live independently or enjoy support, all while enjoying the closeness of friendly neighbors. Located just minutes from Victor, Fairport, Farmington, and Canandaigua, Parkwood Heights is a great place to enjoy the beautiful spring weather with friends and family, whether you're spending time at the Parkwood park, taking a walk on one of our many trails, joining in a game of bocce or horseshoes, or just relaxing in our scenic setting. Call (315) 986-9100 to learn more about all that we have to offer, or check out our website and reach out if you have any questions.