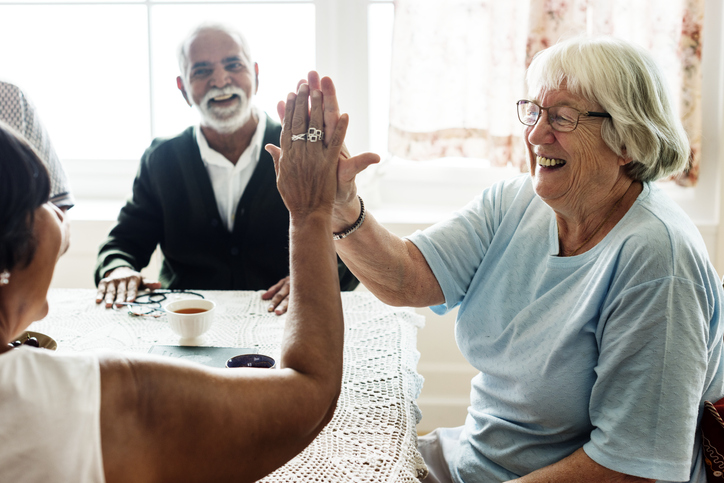 Moving to a retirement community may feel overwhelming at first. You might not know anyone yet, and you could be unsure of the best way to adjust to your new living situation. Fortunately, with a little effort, you can make social connections that improve your quality of life, relieve stress, and help lower the chances of dementia and other health problems as you age. Here's how to make new friends, stay busy and enjoy life to the fullest at your retirement community.
Keep an Open Mind
Don't lose your luster for life just as your golden years arrive! Moving from your house into a retirement community isn't the beginning of the end. On the contrary, this is a time of life many people enjoy the most. You've worked hard for decades, and now you have the opportunity to relax and pursue leisure activities from morning until night – enjoy it!
All it takes is an open mind. You're never too old to try something new, so be willing to embrace whatever the day brings. Explore fresh hobbies, make new friends and accept invitations to events you might not have attended on your own. This attitude will help you become a thriving member of your retirement community.
Talk to One New Person Every Day
Set a goal to strike up a conversation with someone you don't know at least once a day. Too many seniors sit on the sidelines, waiting for others to come up to them. If everyone adopts this attitude, the entire room will remain silent.
Be bold and approach others directly, especially if you think they might be new to the community. Smile and introduce yourself. Even invite the person to attend an upcoming event with you. You never know when a simple "hello" might turn into a valuable friendship.
Eat in Common Areas
It's easy to retreat to the privacy of your apartment, but meal times are the hub of social engagement at retirement communities. Besides, you'll never meet anyone new if you always shut the door on others.
The comfortable Fireside Dining Room at Parkwood Heights is the perfect place to eat breakfast, lunch and dinner. This is where you can enjoy a leisurely restaurant-style meal in a comfortable setting. If you're nervous about walking in alone, locate a staff member who can help you find an open seat. It's also helpful to keep an eye out for anyone else eating alone who might be new and ask if you can join them. This is yet another way to create new friendships within your retirement community.
Walk Around the Grounds
At Parkwood Heights, you can do far more than just meander across the street – you can take a stroll down walking path to the park, view the pond and stroll through the garden area. You'll love making walks a part of your daily routine, not only for the great exercise it provides but also for the chance to meet other residents and keep up with what's happening in the community.
Make Friends with the Staff
Retirement community staff members are typically passionate about helping others and would love to be your friend. Intergenerational bonds between young staff and senior residents are beneficial for everyone involved and can develop into rich, long-lasting relationships.
Sign Up for Events
Residents at Parkwood Heights have access to 125+ events, activities and outings every month. Whether you enjoy woodworking, listening to music or attending holiday-themed events, you're bound to find something to suit your lifestyle, hobbies and interests.
We'll help you stay busy with numerous opportunities to play games, watch shows, attend health and wellness fairs, and make new friends who share your interests. Events are built right into the community lifestyle here at Parkwood Heights. In fact, activities are free unless otherwise noted, so there's no reason not to take advantage of them!
Utilize Community Amenities
Living at Parkwood Heights gives you access to an on-site library, activity room, fitness center, hair salon and barber shop, therapeutic spa, community center, and more. Visit these areas in your free time to utilize the services and mingle with other residents. You might hear about an event that interests you or gain useful advice from fellow community members – all because you stepped out of your apartment to enjoy life to the fullest!
Get Involved in a Community Project
The residents at Parkwood Heights are always looking for ways to give back to the Wayne County community. One way is by getting involved in projects when they arise.
For instance, our residents have knitted hats and scarves for the homeless shelter, mentored 5th graders at the local middle school, organized food drives, and raised money for the Town of Macedon Ambulance by producing a photo calendar. These kinds of projects help people and organizations in need while providing tremendous fulfillment.
Bring a Friend with You
Do you love everything Parkwood Heights has to offer? Is there someone you know who could benefit from the activities, events and amenities of this retirement community? Invite them to join you! Living in the same neighborhood as an old friend can help you enjoy your golden years even more.
By getting involved, you can achieve a sense of camaraderie and belonging here at Parkwood Heights. We welcome you to learn more about our retirement community in Macedon to see if we're the right fit for your lifestyle. Take a virtual tour of our facility today. Then, when you're ready, contact us at (315) 986-9100 to find out more about living at Parkwood Heights.