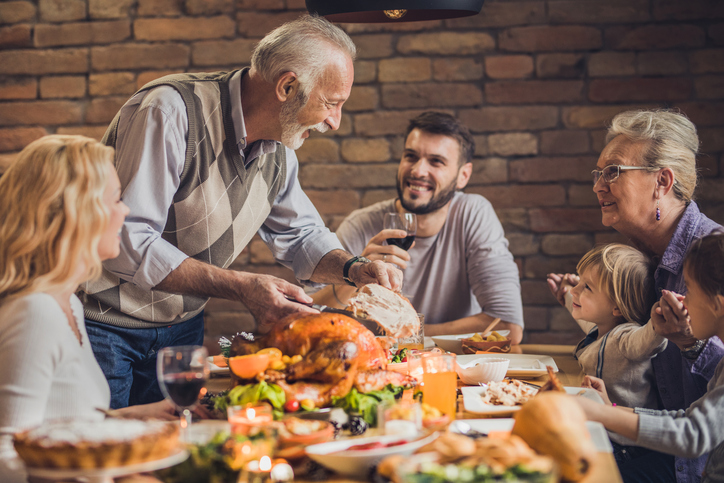 The holidays are a warm and wonderful time, in which we come together with friends and family to celebrate what's truly important. They're also a time of peril for your diet when feasting with family turns into an unhealthy event. How can you keep that fuzzy holiday feeling without piling on the holiday pounds?
Eat before the big meal. Eat a hearty breakfast and lunch if the main event is at dinner, and have healthy snacks to satisfy your appetite. If you don't feel like you're starving when the main meal begins, you'll be less likely to overindulge.
Pile your plate with produce. By this, we don't mean the vegetable casseroles packed with salt and fat. Fresh veggies and fruit are full of important nutrients, and filling your plate with them will make it easier to resist other, less healthy options. Try a delicious vegetable soup to start your meal, then focus on non-starchy options, like salad, Brussels sprouts, green beans, carrots, and bell peppers.
Indulge sparingly in special dishes. During the holidays, it's easy to eat too much of the foods you only eat once a year. It's fine to have a small serving of the casseroles and other treats you really enjoy, but don't waste calories on foods like dinner rolls, which you can have any day of the year.
Use restraint when it's time for dessert. It's fine to have a small slice of pie, perhaps with a golf ball sized dollop of whipped cream or ice cream, but don't go overboard. If you're in charge of desserts, try to limit the options so that you're not tempted to have several different desserts.
Bring healthy dishes to the holiday table. Hosting a meal? Bringing dishes to a potluck dinner? Find interesting and healthy recipes you can share without disrupting anyone's diet. Perhaps Twice RoastedSquash with Parmesan Butter and Grains appeals to you, or maybe you'd prefer Brussel Sprouts with Bacon. Roasted Sweet Potatoes with Honey Butter can replace more sugary sweet potato casseroles, or you can dump the soup-in-a-can green bean casserole for this Green Bean Casserole with Crispy Shallots.
Have a plan for after dinner. Rather than sitting around after dinner, picking at leftovers and watching television, why not engage your loved ones in a healthy activity? Toss the football around, play a game of horseshoes, or just go for a walk to enjoy your time together while you burn off those holiday calories.
If you're looking for a lovely setting in which to enjoy time with friends and family, look no further than Parkwood Heights. A picturesque, 122-acre senior living campus, Parkwood Heights is located just minutes from Victor, Fairport, Farmington, and Canandaigua. It's a great place to enjoy your time with friends and family, whether you're participating in a wood working class, taking a walk around the campus, joining in a game of bocce or horseshoes, or just relaxing in our scenic setting. Call (315) 986-9100 to learn more about all that we have to offer, or check out our website and reach out if you have any questions.