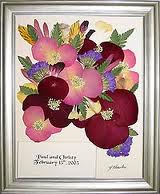 Pressed flowers lend themselves readily to many craft projects. Note cards suitable for birthdays, anniversaries, get well, can be created. Home made cards add a more personal touch than utilizing an ordinary card from the store, and are far more appealing than the computer generated cards. Pressed flowers are beautiful on decoupage boxes, make wonderful framed artwork, and are practical for book marks. They are enchanting pressed between two pieces of glass to make coasters. Glued onto a piece of wood and covered with modge podge, they are ideal for paper weights.
Collect flower specimens when they are at their peak. A dying flower will only lose more color when pressed. Use a book that is not valuable to press your flowers. Last year's phone book is ideal. Mark the page you press the flowers in so you can find them later. Take single petals of the roses, de clump bunch type flowers such as pentas and Ixora flowers to a few per pressing. Certain flowers like impatiens do not retain their color. Hibiscus also does not dry colorful.
Fill up one page of the phone book with a single layer of flowers. Fold over the page and turn about twenty five more pages over and add more flowers. Continue until the book is full or you run out of flowers. Store the phone book in a cool dry area and place something heavy on top. In two weeks remove the flowers from the book and you may start your projects. Use regular copy paper and fold in half and half again. Create a nice design, and cover with clear contact paper. Use invitation size envelopes.
These craft projects lend themselves well to the horticulture therapy programs. They are ideal family activities and are wonderful for schools as well.
This is just one of the possible 150+ Activities per month at Parkwood Heights