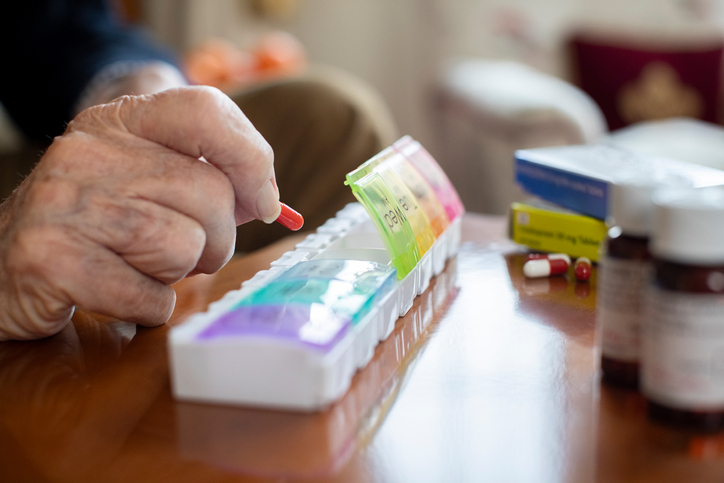 Are you taking your medication safely? This can be a concern for many older people, because often, they take several different types of medicines. Some may be prescription, some over the counter, and others supplements or herbal remedies, but if you are taking a mixture of medicines, there are things you need to consider.
Why does it matter? Some medications don't play well with others, and interaction between certain medicines can have negative consequences. What's more, as people age, their bodies change, and this can affect how medication affects their bodies. Add to that the complication of tiny print on prescription labels and the memory problems that plague some seniors, and it's easy to understand why 770,000 older adults end up in the emergency room annually for medication related issues. Knowing these helpful tips, though, can help you stay safe and well.
Only take medication the way it's prescribed. It's very important to take your medication the right way, following your health care provider's instructions. Don't take a prescription medication that your doctor hasn't prescribed for you. If you're taking medication, don't skip any doses or stop taking it without talking to your health care provider. Even if you feel better, or if you don't think the medicine is working, you should discuss this with your doctor instead of changing your medication on your own. Your doctor will know the right dosage for you, and how you're supposed to take the medication. For instance, some medications don't work unless they're taken regularly, so skipping doses will be detrimental to your health.
Write down information about your medication. Make a list of all the medication you've been prescribed, with notes about the condition it's treating and the dosage you're taking. Write down the brand name, and the generic name. Keep this list with you and consider making a copy for a friend or loved one, in case of emergency.
Pay attention to potential side effects and drug interactions. Prescription medications can interact with each other, but those aren't the only possible interactions. Drugs can interact with over the counter medications, herbal preparations and supplements, alcoholic beverages, and even food and non-alcoholic drinks. Sometimes, a medical condition you have can make a drug potentially harmful. That's why it's really important to read the literature provided to you when you pick up your prescription. If you have questions, talk to the pharmacist, and if you have concerns, discuss them with your health care provider. Be aware the sometimes medications can cause side effects that resemble health problems, so if you're having any new medical issues, ask your doctor if they could be related to your medication.
Talk to your doctor about all of your medications. Every time you see your doctor, take a moment to talk about the prescription and over-the-counter medications you are taking, including dietary supplements. Doing this will allow you and your doctor to address any issues you may be having and determine whether you still need to take everything you're taking. If there's a problem, like a medication you can't afford or something that isn't working well, these are also issues to discuss with your health care provider. If you've got multiple health care providers, make sure they're all in the loop concerning your medications, so that you don't inadvertently receive a prescription that's not compatible with other things you're taking.
Covid-19 doesn't have to make everything more complicated. You might be nervous about seeing your doctor or visiting a pharmacy, but there are ways to work around these things. Virtual physician visits are available to discuss issues, and most pharmacies offer mail order or home delivery options for prescription medications.
Be aware of fixes for common medication mistakes. It's easy to get times confused or forget to take doses of your medication, so find a system that works to keep you on track. Electronic options like MedMinder might be helpful, especially if you don't have someone to help you stick to your schedule. Sometimes seniors might find it difficult to swallow, and this is another problem that can interfere with taking medication. Some might decide to crush a pill or empty a capsule into water to drink, but this can be dangerous if the medication is supposed to be time released. If you're having trouble with swallowing a pill, talk to your doctor or pharmacist about alternate versions of your medication, to see if there's something easier to take. Another problem that seniors often have is in reading labels. This can be addressed by asking the pharmacy for larger-print labels.
Medication help is something we offer at Parkwood Heights. In our enriched living program, we provide a case manager who will work with your medical providers, ensuring that all medications are ordered, delivered, and administered as directed. With both our basic and plus levels of care, our team of medication technicians will bring your medication to you at your apartment, so that you don't have to worry about missing a dose.
At Parkwood Heights, the health and happiness of our residents is at the top of our priority list. That's one of the reasons this is a great place to live your best life. A lovely community in which to spend your retirement, Parkwood Heights is located just minutes from Victor, Fairport, Farmington, and Canandaigua. Our picturesque, 122-acre senior living campus affords opportunities to safely enjoy your time with friends and family in a scenic setting. Call (315) 986-9100 to learn more about all that we have to offer or check out our website and reach out if you have any questions.