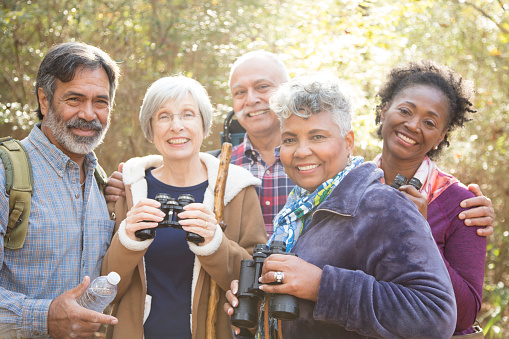 As the weather starts to warm, everyone wants to spend more time outside. The sunshine, fresh air and gorgeous scenery are perfect for enriching your senses and uplifting your soul. Just a little bit of time outside each day is physically and emotionally beneficial, especially for seniors. If you're having a hard time coming up with outdoor activities, allow us to offer some suggestions.
Gardening
The patio or balcony of your Parkwood Heights apartment, villa or patio home is the perfect place for a garden! There's something satisfying about planting seeds, watering and nurturing tender plants, and watching them grow big and strong. Whether you prefer to grow fruits and vegetables or small flowers and herbs, the best option for seniors is to garden in raised planters or flower beds to ensure a great experience with less bending down.
Swimming
A dip in a pool or lake is a wonderful way to enjoy some time outside. You can simply lounge, swim with a friend or join a water aerobics class. Just remember to protect your skin from damaging UV rays by wearing sunscreen.
Going to a Farmer's Market
The Macedon Farmer's Market is held every Wednesday from 3:30 pm to 6:30 pm starting mid-June and ending in mid-October. Find it in the Macedon Town Hall parking lot. Arrange to visit with friends, family or by yourself. Wander from tent to tent, indulging in a few treats as you go and taking others home to enjoy later.
Taking a Nature Walk
Get a bit of exercise and immerse yourself in nature by going for a walk around the Parkwood Heights property. our private Parkwood Park boasts walking trails, hiking paths and gardens for your enjoyment. Pets are welcome at our community, so feel free to bring your dog along with you on your nature walk!
Picnicking
Residents of Parkwood Heights enjoy delicious chef-prepared meals daily. While the usual place to eat is in the fireside dining room, you can choose to take your breakfast, lunch or dinner outside for some fresh air while you eat.
Fishing
If you love to relax with a fishing pole in hand, life at our retirement community could be perfect for you. We have a catch and release fishing pond onsite, so you don't even need to travel outside the neighborhood to enjoy this peaceful outdoor activity for seniors.
Golfing
Practice your swing at one of Western New York's dozens of golf courses. The feel of the green grass beneath your feet and the smell of fresh air as you tee off can be very therapeutic for people who enjoy this classic sport.
Bird Watching
With a few library books and a pair of binoculars, you can instantly become an amateur bird watcher. We have a fantastic array of wildlife to enjoy here in Wayne County, from the barnacle goose to the tufted duck to the American oystercatcher. You can even spot birds right outside your window.
Attending an Outdoor Concert
Enjoy a little music in a fresh-air environment by going to one of the many cheap or free outdoor concerts in the Rochester area. Remember to bring a lawn chair, and pack a sack dinner or stop at your favorite fast food restaurant on the way to the event.
Reading
If you love a good book, stop by Parkwood Heights' onsite library and pick up the latest biography, mystery or romance novel. Then, settle in a comfortable chair on your patio and read to your heart's content. If you're interested in starting a book club, ask around to your friends and neighbors to see who wants to join.
Watching the Sunrise or Sunset
Whether from the comfort of your patio or during a nature walk around the scenic grounds, there's no better way to start or end your day than by watching the sun rise or set. Bring a camera with you and consider creating a sunset or sunset scrapbook.
Attending a Barbecue
Everyone loves the smell of meat and vegetables on the grill! We invite you to join us for our upcoming Summer Barbecue on August 9, 2018 from 4:30 pm to 6:30 pm here at Parkwood Heights. We're serving barbecue chicken, tasty side dishes and dessert. The event also features entertainment by Jimmy's Old Time Country Band, a farm market, and horse and wagon rides.
Join in the Enriching Events at Parkwood Heights
Residents of Parkwood Heights have access to a wide range of daily events. The Activities Department schedules over 150 activities, outings and events every month! Many of the things we plan take place outside, especially during the beautiful summer months here in Wayne County. And best of all, most events are free unless otherwise noted.
Stay engaged this summer with great outdoor activities for seniors! To learn more about the benefits of living at Parkwood Heights in Macedon, please contact us today at (315) 986-9100.