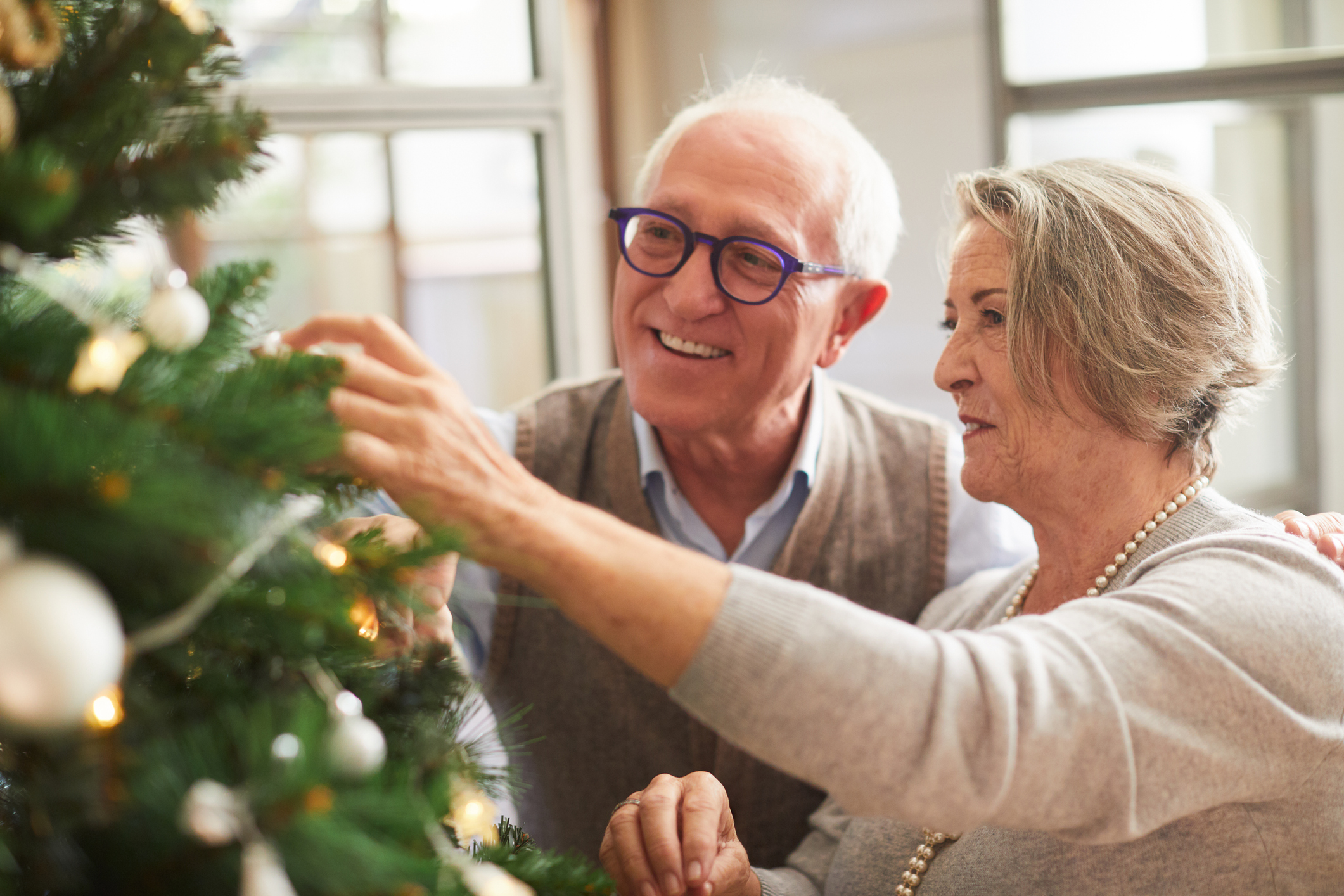 With the Holidays coming, it's time to think about how to decorate your home. Decorating a small home for the Holidays may be a challenge but can have a dramatic impact. We are here to provide you with some tips that will help you make your home glisten with festive Christmas decorations tailored to your smaller space.
A Grand Entrance
Dress your doorway with a beautiful Christmas wreath. Combine that with a garland of faux berry sprays, bows, and tinsel around the door to make a great first impression. Turn your Christmas cards and Holiday photos into a festive and elegant display, using a Christmas card hanger. This personal touch can go inside your front door or on a wall.
The Christmas Tree
A beautifully trimmed Christmas tree can be the centerpiece of your Holiday decorations, and there are so many options from which to choose. Consider a small or even miniature tree that can give you the Holliday spirit without overtaking your living space. How about a slender pencil tree that will easily fit into a corner? Or a table top tree that won't take up any floor space?
Improvise a Mantle
If you don't have a mantle, you can create a Holiday vignette on a sofa table, a bookcase, or a floating shelf. Add some twinkling lights for an even more dramatic effect. Do you have a beloved collection of Holiday items, like trees, elves, angels or snow globes? These would create beautiful vignettes.
A Christmas Floral Arrangement (with or without Flowers)
Create a Holiday woodsy themed arrangement with small branches of fir, cypress, pine, and holly or tallow berries in a crystal vase. A fresh or artificial poinsettia is an easy and colorful addition to your Holiday décor.
Holiday Colors for Bed and Bath
Dress up your bedroom with pillows and throws in Holiday colors. Continue this theme in your bathroom with Christmas themed hand towels, soaps, and candles.
Color-Go Big and Bold, or Soft and Neutral
Energize the living room with bright colorful accessories like accent pillows and throws for your sofa and chairs. Selecting a particular color palette for your decorations ties everything together beautifully. Bold reds or greens, soft blues, a black and white theme, natural tones of linen and burlap…the possibilities are endless. You can even buy Holiday pillow covers to change your existing accent pillows. As a bonus, these will take up very little storage space after the Holidays.
Spiff up those Wooden Chairs
You can dress up your dining room chairs by adding small wreaths or bows to give them that Holiday flair. These are easy to find already made at your local craft store.
Don't Forget the Kitchen
You can show your Holiday spirit in the kitchen by adding themed dish towels and tableware. Add some small wreaths or ornaments to your cabinet doors to dress them up. Display decorations or a Holliday cookie jar in an empty corner or your kitchen.
Let the Presents Help Out
Gift wrapped presents can double as decorations. Wrap them in brightly colored paper with ribbons and bows or follow your color palette to tie them together with the rest of your Holiday décor. A lovely trend it to wrap gifts in brown kraft paper and then decorate them with colorful ribbons and even artificial sprays.
Final Word
For many, decorating for the Holidays is a favorite tradition. Whether you're using cherished vintage decorations, or the latest treasures you've found at the store, Holiday decorations can set a tone that creates a festive atmosphere within your home. With these suggestions, you can enjoy the process of decorating as well as the results all through the season.
Parkwood Heights is a picturesque 122-acre senior living campus, located just minutes from Victor, Fairport, Farmington and Canandaigua that provides fresh choices in retirement living. Our campus affords many opportunities to enjoy your time with friends and family in our scenic setting. Call (315)986-9100 to learn more about all that we have to offer or check out our website and reach out if you have any questions.