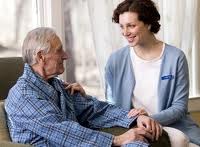 Alzheimer's disease is a progressive brain condition that affects memory, thinking and behavior. Alzheimer's ranks as the sixth leading cause of death in the U.S., and one in eight older Americans has the disease. After age 65, the risk of developing Alzheimer's doubles approximately every five years.
September is Alzheimer's Awareness Month when people nationwide are encouraged to support the needs of Alzheimer's patients and their families and advocate for research, treatment and care for this debilitating and deadly disease. September 21 is Alzheimer's Action Day when all Americans are asked to wear purple to raise awareness of the brain condition and turn their Facebook profile picture to the purple END ALZ icon. People also are asked to purchase purple products that raise money for Alzheimer's research.
Other ways to help all yearlong include:
Join a Walk to End Alzheimer's™ near you.
Invite companies to sponsor Alzheimer's advocacy groups.
Help make others aware of Alzheimer's warning signs.
Warnings signs of Alzheimer's disease include:
Memory loss, particularly recently learned information
Confusion over dates, places and the passage of time
Difficulty in problem solving or planning
Trouble following or joining a conversation
Withdrawal from normal activities or social situations
If you or someone you know is experiencing any of these signs, see a doctor. Right at Home skilled caregivers are available to help with the specialized needs of Alzheimer's patients and can ease the load of families caring for loved ones affected by the disease.
Although there is no cure for Alzheimer's, the goal of Alzheimer's Awareness Month is to help researchers slow and treat the progression of Alzheimer's symptoms and prevent the disease from developing entirely.
by Rita Ude