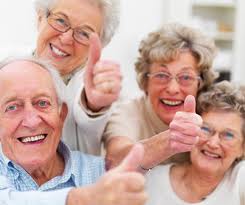 Most of us enjoy spending time with others. But is socializing just a pleasant way to pass a few hours?
Research shows that socializing plays a vital health role throughout life, no matter what a person's age or condition. Gerontologists tell us that maintaining human relationships promotes healthy ageing in many ways you may not have considered:
Strengthens the immune system
Lowers blood pressure
Improves cardiac health
Promotes brain health and memory
Encourages physical fitness
Lessens depression
Improves sleep
Motivates good nutrition
Reduces the perception of pain.
People experiencing loneliness also have higher levels of stress hormones. Being lonely is hard on a person's health.
Unfortunately, seniors are more likely to experience loneliness. Retirement, mobility problems, health challenges, giving up the car keys, and the loss of spouse and close friends all remove familiar occasions for socializing.
When elders are living with health problems, family caregivers do what they can to prevent their loved one from being alone too much of the time. But many are dealing with busy lives already, full of responsibilities for work and other family duties. Senior Living communities, like Parkwood Heights Senior Living Campus, can be a great way to decrease loneliness and increase social opportunities for senior loved ones! The trained professionals at Parkwood Heights and the friendly residents provide Activities and opportunities to be as active and social as desired.
Companionship. Spending hours alone at home can have such a negative impact on seniors! The presence of other residents and staff in your community every day provides the stimulation and comfort and security we need.
Transportation. Senior Living communities like Parkwood Heights takes the burden from family for such thing as medical trips, grocery shopping, visiting a loved one. Plus a number of these services are provided in house at Parkwood Heights.
Dementia support. Spending meaningful time with others at Parkwood Heights benefits people who have memory loss. The understanding staff understand the challenges of the memory loss can provide patient, non-judgmental company, and appropriate supervision for activities and socialization.
Improved family relationships. With the assistance for personal care and housekeeping, transportation, meals etc., family members are free to spend more quality time with their loved one, doing things they truly enjoy. And did you know research shows that seniors have a better relationship with family when they spend time with other people as well?
It is true that as we grow older it takes more effort and planning to stay engaged in life, but the rewards are great.