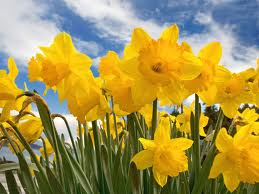 We all think of spring cleaning when the days start getting longer, the robins return and all those beautiful daffodils start blooming. Well, I want you to shake off all the cobwebs and let's get moving! Healthy living can make all the difference in your quality of life. Even small changes in your lifestyle can make an impact in your overall health and how you perceive yourself.
Eating healthy, quit smoking, regular medical checkups, and my favorite, exercise. No that doesn't mean you have to get on the tread mill (but you can because we have 3 in the exercise room). Start slowly, the first step truly is the hardest. Join our exercise classes or our Zumba Gold for Seniors class, take a walk with a friend, lift some weights, variety is the key.
Now that we have that healthy body, don't forget to challenge your mind at some of the many programs we provide here a Parkwood Heights. You might surprise yourself at how well you do and how much fun you have. Whether it is learning a new game, participating in one of our inter-generational programs, outings to museums or historical sites, sharing your life experiences or adding to them, remember that a challenged mind is a healthy mind.
So what are you waiting for, join in the fun!
Kandy Liguori, Life Enrichment Director At Parkwood Heights Senior Campus