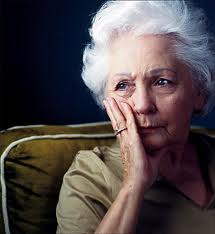 In this fast-paced world, few families make time to eat together anymore. And because eating alone—and on the go—is becoming more common, nutrition usually suffers.
That may be especially true for seniors. Cooking for one person can be harder because they have to scale down recipes, and it's also not as much fun. Instead of stimulating dinner conversation, the television becomes the other person at the table.
"Unfortunately a lot of meal choices turn out to be what's quick and easy to obtain," explains Anne Linge, a dietician at the University of Washington Medical Center in Seattle.
While many seniors are very active, others don't have the energy or ability to prepare meals for themselves. Some may have never set foot in the kitchen, or they're no longer physically able to prepare complex meals.
Inadequate nutrition can lead to a weakening of the immune system, increasing the risk of illness or infections, or contributing to mental confusion. And continued malnutrition could lead to depression, which in turn could lead to a loss of appetite—a vicious cycle.
For the elderly, other factors can contribute to malnutrition, including lack of transportation to the grocery store.
Linge had a client who lived directly across the street from a grocery store—but on the third floor. "She was trapped in her building because of her physical abilities and she couldn't get what she needed," Linge says. "So, when you think about your parents and their needs, think, is shopping something they are able to do?"
Ask your loved one if they would prefer that you bring in groceries for them to cook, or that you cook for them. Be sure to ask them if they are having difficulty with chewing or swallowing, if food tastes too bland, or if they've lost their appetite (it could be because of medications they may be taking, or possibly depression, which can have serious consequences). Also, check their refrigerator and see what kinds of food are in there, and whether any have passed the expiration date.
Senior Living Communities
Getting together with other people—whether seniors or not—can make eating more fun. Having your own Community Center for a hangout with your new friends, is also a good idea. "There are Activity Rooms in addition to a Dining Room in an Assisted or Independent Living community where seniors tend to gather and socialize. Living in a Senior community also helps seniors eat better.
"It makes a huge difference when you get residents sitting at a table together," explains gerontologist Ashley Kraft, the "Life's Neighborhood" Director at Aegis at Northgate in Seattle, an assisted living facility. "It brings back the memories of eating with your family. What happens, especially with dementia, is they forget about the things we take for granted, knowing that we're hungry, knowing that we're thirsty, or they don't know how to explain that feeling."
While many people may not eat as well when eating alone as they would sitting down at a family meal, there are many options to ensure adequate nutrition. Whether by finding friends to eat with, using easy-to-prepare recipes, or making a change in the living situation, your loved one can still stay healthy with your help and encouragement.
Check the website for a copy of the Parkwood Heights Spring Newsletter to read about "Choosing an Assisted or Independent Residence.