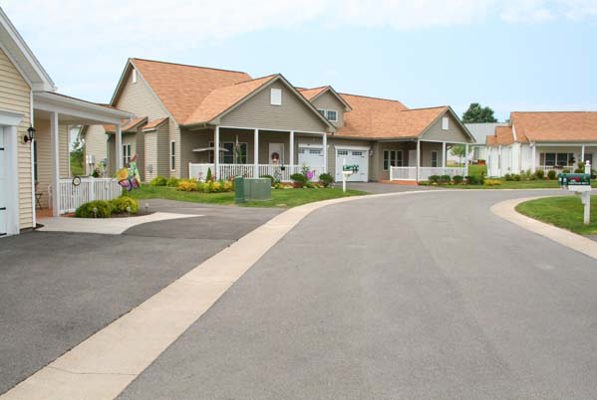 You may have heard about the picturesque community of Parkwood Heights, where independent living is enhanced by abundant amenities and dedicated staff available to assist at all times. Parkwood Height's spacious, beautiful facilities create a welcoming environment, and residents are treated to hot meals, transportation, activities, in-house banking, grocery and prescription delivery, and much more. If you're ready to transition into this kind of community lifestyle, yet don't want to lose the freedom and spaciousness of having your own home, it's time to take a look at Parkwood Heights' spacious villas homes.
With two bedrooms, a beautiful great room with plenty of natural light, cathedral ceilings, a full kitchen with a breakfast nook, a laundry area, front porch, and plenty of storage closets, our one-story villa homes offer the kind of space you'd expect from a comfortable home. They also feature an attached garage, and some units have gas fireplaces. Equipped with full-service generators, dishwashers, and individually controlled heat and air conditioning, these villas have the convenience you need to live independently.
What's more, villa residents can pay one low monthly fee and gain access to many of the conveniences, activities, events, and campus amenities that make Parkwood Heights so special. This means you could have free grocery and pharmacy delivery, activities, entertainment, meal packages, and daily continental breakfast. Pets are allowed at the villas, taxes are included, housekeeping is available, snow removal, lawn care, and trash pick-up are all included. Additionally, if you live in one of our villas, you can access our health and wellness programs, our blood pressure clinics, and our on-site lab and physician. All of these amenities are available to those 50 and older, and utilities and maintenance are included in your monthly fee.
Villa homes are available in three different floor plans, starting at 1090 square feet. Each unit offers beautiful and spacious living areas, designed for your comfort and convenience. Situated in a lovely neighborhood setting, these properties feature inviting front porches for visiting with friends and neighbors, and meticulously maintained landscaping to make them welcoming and homey. Residents of villa homes can dine in the beautiful Fireside Dining Room on a pay-as-you-go basis, and guests are always welcome to visit and join them for a meal.
Why wait? Visit Parkwood Heights today, to see our villas and other beautiful homes for yourself. A picturesque, 122-acre senior living campus, Parkwood Heights is located just minutes from Victor, Fairport, Farmington, and Canandaigua. It's a great place to enjoy your time with friends and family, whether you're enjoying the Parkwood Park, taking a walk around the campus, joining in a game of bocce or horseshoes, or just relaxing in our scenic setting. Call (315) 986-9100 to learn more about all that we have to offer, or check out our website and reach out if you have any questions.