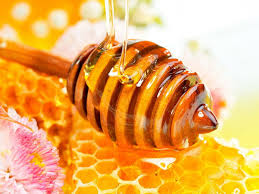 Posted by C. Harrington, Maty's Healthy Products

You may ask why does honey have its own national month and the answer is because most of the nation's honey is actually harvested throughout the month of September. Here's a fun fact ‐‐ many local farming and beekeeping communities celebrate honey month with local events such as honey tastings, recipe exchanges and "Meet the Beekeeper" events, which allow people an inside look at how honey is made into the delicious form we use each day. Check with your local community newspaper to find these fun family events near you.
Over 200 million pounds of honey are produced in the US annually and Americans consume nearly 1.5 pounds of honey per person! It is fat free and cholesterol free. Just like a good bottle of wine, honey is better with age and will not spoil; in fact, it was reported that honey was found over a thousand years old that is still good to eat. The darker the honey, the greater its antioxidant properties.
Did you know that honey has many other benefits, other than its most common use as a sweetener? Known as the nectar of the god's to early Greeks and Roman civilizations, the super food has long shown its multifaceted benefits throughout history. The sticky substance has a number of anti‐oxidant and healing properties for the body and skin, the darker the honey, the greater the antioxidant properties. It helps with digestion and provides healing properties for head‐to‐toe care.
Some of my favorite uses for honey include:
Soothing sore throats: Honey coats the throat which is very soothing on raw tissue. It also has antimicrobial properties, which accelerates healing.
Wounds: A natural antiseptic and anti‐inflammatory, honey helps heal wounds more quickly by killing viruses, bacteria, and fungus. It also promotes even tissue growth which helps diminish scarring.
Energy: With the makeup of glucose and fructose, it is an ideal energy booster because it not only gives an immediate boost in energy, but also helps to sustain energy levels for a longer time. The natural fruit sugars in honey help prevent fatigue during exercise and have been found to keep levels of blood sugar fairly constant compared to other types of sugar. It also helps reduce muscle fatigue.
Moisturizers: Honey is a natural humectant, which means it attracts and retains moisture which prevents the skin from drying out, making it perfect for cleansers and creams.
As a mother of four, I've used many fun honey recipes for my family and wanted to share an easy favorite: Honey Mustard Chicken (yum!)
Ingredients
6 skinless, boneless chicken breast halves
salt and pepper to taste
1/2 cup honey
1/2 cup prepared mustard
1 teaspoon dried basil
1 teaspoon paprika
1/2 teaspoon dried parsley
1 finely minced garlic clove