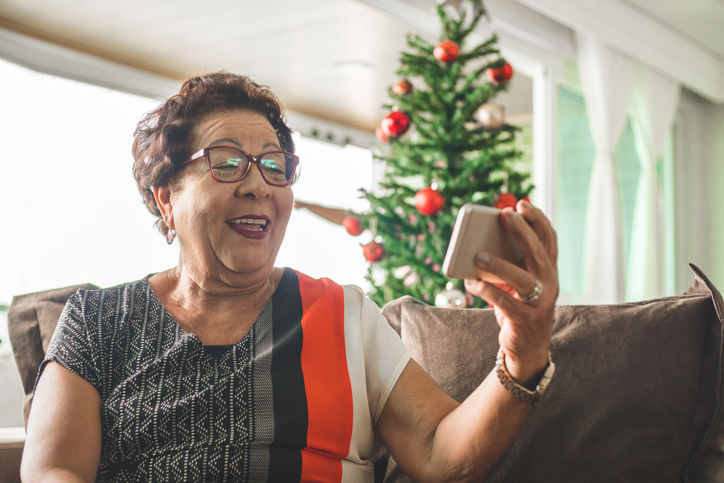 The holiday season is upon us, and in this strange and unfamiliar year, it's no surprise that the holidays look different, too. When some of our most cherished traditions are considered "high risk activities" and family members are discouraged from visiting each other, how can we even attempt to celebrate the holidays? We've got some tips for celebrating joyously and safely, without ruining your holiday spirit or your health.
The problem with the holiday season this year is that it coincides with a season of rampant illness. Not only is COVID-19 back on the upswing, but this is compounded by the fact that it's cold and flu season. Especially for older people and those with underlying conditions that make them more vulnerable to illness, it's not the ideal time to gather. The solution may be to create some new traditions, just as warm but perhaps not as crowded.
Do the holiday meal differently.
To dramatically lower the risk of everyone involved, consider gathering virtually, placing laptops on the table so everyone can see each other and join in the conversation. You could even prepare and deliver food ahead of time, so that you're all eating the same meal, or have the meal delivered.
Stay out of crowded stores. If you're cooking or baking, have your groceries delivered. Stay out of malls in favor of online shopping, or send virtual gift cards in lieu of gifts. If you do intend to shop in person, do it early in the season, at a low-traffic time of day. Mail things early, too, because shipping companies are likely to be overwhelmed this year.
Find new ways to share old traditions. Attend a virtual religious service or watch a holiday concert or parade on TV while on a virtual call with a loved one. Light the menorah or sing Christmas carols together over a virtual calling platform. You can do other things together this way as well, whether it's wrapping presents, baking cookies, opening an Advent calendar, or reading to children in your family.
Some traditions are perfectly safe. You can still decorate your home, bake goodies, watch holiday movies on television, light candles, drive or walk around your neighborhood looking at holiday lights, and listen to your favorite holiday music. With smart phone technology, you can even do these things with your loved ones over video chat. Remember that this time is fleeting, and we will come out on the other side of it. Don't let it ruin your holidays or steal your joy. Instead, find ways to celebrate that bring up old memories of treasured holidays past.
No matter how you choose to celebrate the holidays, make sure you get your flu shot. While we all await the COVID vaccine, it's important to do everything you can to protect your health. Especially if you're going to be around people outside of your household, it's more important than ever to get the flu shot. Getting your flu shot is a critical part of protecting your health and the health of your family during cold and flu season.
At Parkwood Heights, the health and happiness of our residents is at the top of our priority list. That's one of the reasons this is a great place to live your best life. A lovely community in which to spend your retirement, Parkwood Heights is located just minutes from Victor, Fairport, Farmington, and Canandaigua. Our picturesque, 122-acre senior living campus affords many opportunities to enjoy your new tomorrow. Call (315) 986-9100 to learn more about all that we have to offer, or check out our website and reach out if you have any questions.